di Giovanni del Vecchio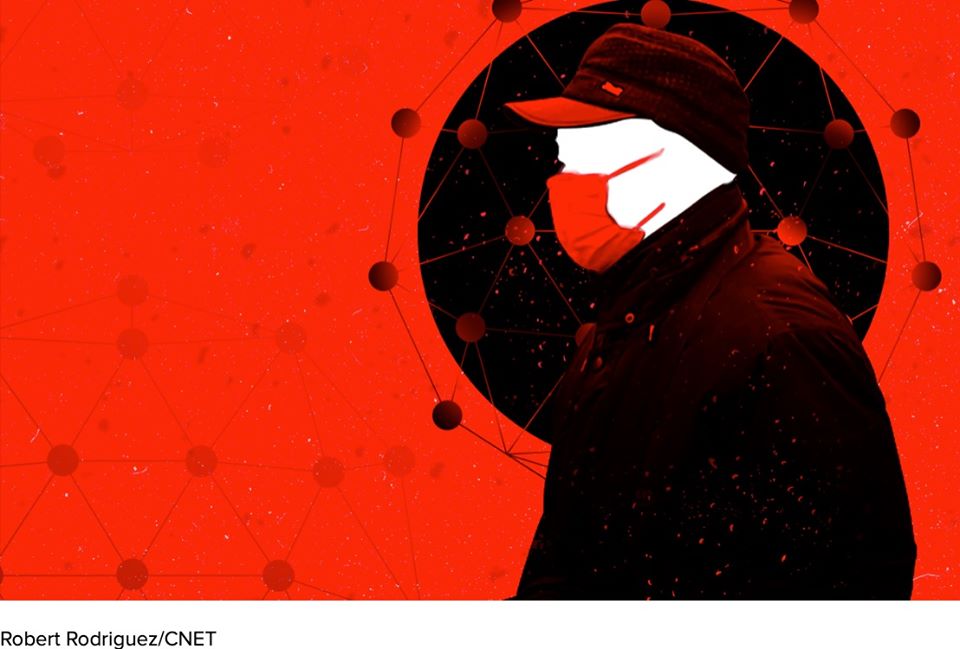 Come affrontare la vita durante la pandemia ed evitare di essere contagiati dalla paura?
Questo articolo è stato pubblicato per la prima volta il 13 aprile 2020, al culmine della pandemia nel Regno Unito. Ora che l'articolo viene proposto in italiano, a dicembre 2020, il mondo sta vivendo una seconda ondata di contagi e sta tornando in lockdown; Joe Biden è stato eletto presidente degli Stati Uniti e le case farmaceutiche ci promettono un vaccino nella primavera 2021. Sebbene alcuni riferimenti politici non siano più attuali, l'analisi di ciò che la crisi sta provocando nei singoli individui e nella collettività è sempre più preveggente.
Una specie di guerra
Quando la pandemia ci ha colpito all'inizio del 2020, siamo finiti in una spirale nebulosa di negazione, smarrimento e paura. In un mondo interiore ed esteriore così disorientante, come possiamo tollerare, accettare e mantenere una certa stabilità nell'incertezza? Ora che ci avviciniamo alla fine dell'anno, sappiamo di più sul presente o sul futuro? Quella distopia che non siamo riusciti a pianificare ha messo radici ed è diventata il nostro modo di vivere. Dopo avere annunciato i numeri giornalieri al picco massimo della prima ondata (960 morti il 10 aprile), i politici e i media hanno giustamente rivolto la nostra attenzione agli eroi di questa battaglia: i soldati in prima linea del Servizio Sanitario Nazionale. Così è stato rispolverato il vecchio linguaggio bellico, una dialettica per galvanizzare il nostro scopo comune e la nostra determinazione; per portare un po' di ordine e una storia da raccontare nel caos; per stabilizzare la coscienza collettiva e rassicurarci che la via della liberazione fosse alla nostra portata: chiamata alle armi … linea del fronte … sacrificio … dobbiamo continuare ad andare avanti e … mantenere la rotta (Dominic Raab, 09.04.20).
Mantenete la calma ma non andate avanti
In aprile nessuno diceva "Mantenete la calma e andate avanti". Un aforisma tipicamente britannico e dal sentimento nostalgico, che per primo si è rivolto a coloro che eranoimpegnati sul "Homefront". Il motto ha perso efficacia tra i lettori, abbandonato su innumerevoli muri, banchi, scaffali, tazzine da caffè, o in uffici, fabbriche, scuole e università: tutti vuoti e irraggiungibili. In un mondo spettrale, tranne che per coloro da cui dipendeva la nostra vita, non potevamo più recarci al lavoro. Alle otto di sera venivamo incoraggiati ad accomodarci fuori dalla porta di casa per applaudire e mostrare la nostra solidarietà ai guerrieri del Servizio Sanitario Nazionale. Mentre marciavano, e continuano a marciare con coraggio, il nostro clamore li ha resi schiavi del loro lavoro. Si tratta di un racket a diversi livelli: esausti, indifesi e morenti, mantengono la calma e vanno avanti.
Non dimenticheremo mai il loro sacrificio… la loro dedizione nell'aiutare gli altri… Siete l'ancora di salvezza per tante persone… Ci avete fatto riflettere a lungo e intensamente su chi siano i lavoratori indispensabili nella nostra vita (ibidem Raab).
Populismo
Proprio come il narcisismo, anche il populismo risiede nell'immaginazione. Ci mette in opposizione a un invasore alieno che minaccia di divorarci e toglierci i nostri diritti, ci fa proiettare le nostre paure non articolate sull'altro, ci fa mobilitare a favore dei suoi campioni-guerrieri, fomenta un nazionalismo agguerrito e sciovinista. Fare di nuovo grande l'America? La Brexit? Questa forma di narcisismo è uno stato paranoico-schizoide, è il rifiuto del bambino di scendere a compromessi, perdonare, negoziare, condividere ciò che ha, accettare un "no" come risposta, tollerare i conflitti, accettare le delusioni, sentirsi in armonia e a proprio agio con se stesso e con il mondo. Il populismo, e il narcisismo con cui dialoga, si attacca alla fantasia onnipotente che ci sia per noi una terra monadica alla nostra portata, ci offre un'esistenza terrena libera da conflitti e differenze, dove possiamo essere padroni di tutto ciò che osserviamo. Cos'è la Brexit, se non unrifugio narcisistico in quel regno immaginario, una reazione di attacco o fuga dalla rabbia narcisistica? E che cos'è diventata ora la Brexit, se non una barca moribonda e sballottata dalle onde, condannata a naufragare in un mare di pandemia, un nulla atlantico tra qui e i tormentati Stati Uniti? Possiamo vedere come la Brexit si sforzi di ritrovare l'orientamento con un nuovo presidente eletto irlandese, filoeuropeo e che promuove l'unità. Ora si parla seriamente di un accordo con l'Europa e di una revisione dell'accordo che violerebbe il diritto internazionale. Il populismo si adatta rapidamente, slegandosi dai vincoli del dovere morale.
Il Falso Sé
Attraverso questo virus post-Brexit, stiamo assistendo a un governo populista imprigionato in una trappola, che deve sopprimere la sua natura e fare ogni sforzo possibile per calmarci dal panico e dall'anarchia nelle strade. La crisi impone al governo una falsa identità, in cui i suoi stessi impulsi darwiniani devono essere repressi; è obbligato a mostrare quanto sia generoso e instancabile nella tutela della salute dei suoi cittadini. Ma nell'agire contro la sua stessa natura, la maschera del governo cade in una tragicommedia di errori: le decisioni pasticciate su chi viene testato, quando e perché; il flop del sistema di tracciamento; gli equivoci relativi ai dispositivi di protezione individuale; lo scandalo degli anziani e del personale nelle case di cura; i messaggi contraddittori e le loro conseguenze. Le scelte politiche vengono costantemente rinnegate: "noi seguiamo la scienza". Negando ogni responsabilità, infatti, non è possibile aprire un dibattito pubblico in cui cogliere una verità che vada oltre i dati. Inoltre, si fa poco per riconoscere gli errori. Nel dibattito nazionale, come si diffondono la rabbia, la paura e il dolore e come si crea la fiducia? I nostri schermi proiettano spesso un meccanismo di difesa che ci protegge dal mondo esterno.
Eroi
Non potendo illudersi sulla propria mancanza di linea, il governo si è guardato intorno in cerca di un significante che tutti noi potessimo seguire. Invertendo ulteriormente la rotta, i tropi narrativi utilizzati in precedenza per mobilitarci contro l'altro si sono rapidamente trasformati in un eroismo inclusivo, che prima indicava gli altri lavoratori del SSN. L'identikit identificava un gruppo multiculturale e multietnico, che viene ora acclamato come noi del popolo per il popolo. La loro ridenominazione in "eroi che si frappongono tra noi e la morte" ha portato a uno scomodo cambiamento di forma, evocativo della vecchia menzogna Dulce et decorum est, pro patria mori. Anche noi, dal disagio dei nostri salotti, siamo stati degli eroi, abbiamo protetto il servizio sanitario nazionale e salvato vite umane. Come se rispecchiandoci in un governo diviso tra il vero e il falso sé, ci fossimo tutti arresi allo psicodramma degli eroi, reali o immaginari.
Alien
Abbiamo visto istantanee di spiagge, centri urbani e parchi nazionali completamente vuoti, mentre la popolazione veniva relegata in casa e gran parte del paese veniva messo in lockdown. Siamo tanto frastornati quanto ambiguamente uniti: uniti nella nostra difficile cooperazione, nella nostra impotenza e paura. Abbiamo scoperto che il contagio, visibile solo attraverso il caos che provoca, si insinua silenziosamente nelle vie respiratorie, per arrivare ai polmoni. Da lì, come in Alien, si lancia sulla classe politica, come un'esplosione di sirene. Il virus non discrimina ma inganna. Ci trasforma in assassini sorridenti, in modo asintomatico. Se dopo i sintomi iniziali il pericolo passa, il virus sembra avere la capacità di riattivarsi; mutato, torna a colpire con una dose ancora più letale.
Coronavirus / Covid-19 / SARS-Cov-2.
Il virus non offre un capro espiatorio o un nemico conosciuto da combattere, se non nelle teorie negazioniste che abbondano. Non c'è un tiranno o un cattivo pronto ad attirare le nostre proiezioni. Anche negli Stati Uniti, per fortuna, l'insulto del "virus cinese" sta cominciando ad affievolirsi. Ciò che rende il Coronavirus così spaventoso e inimmaginabileè la sua onnipresenza; il suo spettro invisibile e incombente aleggia su tutti noi, anche sul Presidente (smascherato). Ma che cosa ci agita così nel profondo? Il suo stesso nome è equivoco: Coronavirus, Covid-19, SARS-Cov-2. Qual è il suo vero nome? Che cosa significa? Che cos'è questo virus? Manca qualcosa che ci permetta di concettualizzarlo. In termini lacaniani, infatti, non rientra in alcun ordine simbolico o linguaggio che ci aiuti a mitigare ed esorcizzare la nostra paura del virus. A meno che non viviamo questo elemento di morte nel corpo, o non lo percepiamo direttamente attraverso il corpo di qualcun altro, il virus sfida il linguaggio e la percezione sensoriale; ci sfugge come un fatto di coscienza (Hegel, 1821).
Il Conosciuto non pensato
Che si contragga o meno, il virus si insinua nell'inconscio personale e collettivo. E lì risiede, represso come qualcosa di conosciuto non pensato (Bollas, 1987). Non pensato, perché non entra nel linguaggio. La nostra riluttanza ad affrontare e ad articolare realmente cosa ci spaventa del virus, o perché ne abbiamo paura, crea una sintomatologia della mente che è del tutto estranea al microrganismo dilagante che uccide senza mente. Wilfred Bion lo descriveva come il terrore senza nome, (Bion 1962). È proprio la mancanza di un significante a cui associare concettualmente il Covid-19/Coronavirus/SARS-Cov-2 che si presta facilmente alla paura primordiale. Nel difenderci da questa paura, diventiamo suscettibili alla sospensione del dubbio e, in alcuni casi, alla follia che il virus non esista affatto. In preda a uno stato così illusorio e delirante, arriviamo a impersonare il comportamento del virus, anche se questo non è presente nel nostro corpo.
Pensare l'impensabile
Se il terrore è senza nome, è impensabile; se non possiamo pensarlo, non possiamo gestirlo. E così, lo proiettiamo sull'Altro demonizzato che porta il virus da fuori: il commesso compiacente che non indossa la mascherina e i guanti, il politico di cui non ci si può fidare per riscattare le nostre vite, il farmacista con la tosse che avrebbe dovuto rimanere a casa… Proiettata e alloggiata nell'Altro, la nostra paura non elaborata si scompone e si esteriorizza nell'immaginario. Se la proiettiamo in qualcun altro, troviamo in questa persona il punto focale dove incanalare la nostra rabbia.
Le emozioni intense, e la paura è una di queste, richiedono una risposta dotata di specificità, cioè frutto del lavoro dell'adulto, per accogliere e in qualche modo condividere il punto di vista del bambino e trovare un modo per cavarsela. Ricorrere alle risposte prefabbricate dal gruppo, evidentemente, non offre alcuna specificità, dimostra solo che gli adulti non sopportano di lasciarsi infettare dal bambino (Gaburri e Ambrosiano, 2003).
Questo bambino trascurato è il bambino dentro ognuno di noi. Le risposte prefabbricate assumono la forma di un pensiero magico: la stigmatizzazione, il capro espiatorio, la xenofobia, il giudizio morale e il complotto; la presunzione comune di un'immunità o di una resistenza collettiva, basata sul fatto che non apparteniamo a una fascia vulnerabile o che non abbiamo patologie pregresse; le accese proteste negli Stati Uniti (sia negli Stati repubblicani che in quelli democratici) contro il lockdown, considerato un complotto contro la libertà civile. Questo meccanismo di difesa è una forma di pura follia e non riesce a superare la paura di fondo, che è propria di un bambino terribilmente spaventato. Il potenziale esplosivo di questi meccanismi di difesa viene ulteriormente esacerbato quando il populismo, usando la situazione a proprio vantaggio, alimenta questa follia. Cerco di evitare ulteriori riferimenti agli Stati Uniti, anche se qui c'è tutto il potenziale per sviluppare lo stesso grado di contagio. Rimanendo in sospeso su così tanti fronti esterni, i nostri processi interni diventano il campo di battaglia per conservare forza e resilienza in questi tempi difficili.
Dare un nome alla paura
Il virus invade il nostro inconscio, riattivando la paura senza nome che è latente in ognuno di noi; si tratta di una vecchia sofferenza familiare dalla quale l'adulto ha imparato a difendersi, ma che, nella maggior parte dei casi, non è riuscito ad elaborare. È la paura non metabolizzata del bambino che sente di stare per morire nella fase della dipendenza assoluta. Trascurato nei suoi bisogni, il bambino subisce un'esperienza di disintegrazione che si presenta sotto forma di terrore di morire e, a quel punto, caga fuori tutta la sua paura di morire. La disperazione del neonato è latente in ognuno di noi e appartiene, a seconda del grado di insoddisfazione per ogni bisogno insoddisfatto, ai nostri primi mesi di dipendenza assoluta. È l'orrore che Joseph Conrad descrive inCuore di tenebra. Occorre lavorare per carpire questa fantasia inconscia, articolandola in modo che si diffonda sia nell'individuo che nella collettività; bisogna metabolizzare, attraverso il linguaggio, ciò che altrimenti rimarrebbe inconscio e destabilizzante.
L'inconscio collettivo
A testimonianza di come funziona l'inconscio collettivo, assistiamo a scene di panico: la corsa sfrenata agli acquisti di generi di prima necessità e, in particolare, la mania di fare scorta di carta igienica, che fa il suo ritorno con il secondo lockdown iniziato il 20 ottobre. Nel secondo delle cinque fasi dello sviluppo psicosessuale, lo stadio anale (tra i 18 mesi e i 3 anni), Freud osserva come una bambina cerchi di esercitare un controllo sul suo corpo e quindi di sviluppare un senso di padronanza delle proprie capacità; quando lasciarsi andare e quando trattenersi. In uno sviluppo normale, la fase anale dell'addestramento al vasino porta alla crescita del bambino fino all'autonomia e all'autodeterminazione (Freud 1905). Quindi vale la pena chiedersi: qual è la fantasia inconscia che lega la nostra ossessione per la carta igienica a una regressione infantile alla fase anale? Qual è la sua funzione difensiva? Il feticcio per la carta igienica indica la ricerca inconscia di un totem magico (Freud 1913) che è in grado di cancellare ciò che abbiamo perso e ciò che perderemo. Rappresenta la fantasia inconscia che ci purifica dal veleno che abbiamo dentro e, a livello di conosciuto non pensato, significa che non abbiamo più il controllo del nostro corpo o della nostra vita. Questo totem, o feticcio, non è un modo di stabilizzare e attenuare la paura, è piuttosto l'espressione impensata e improduttiva della paura senza nome.
Problemi del mondo reale
Allo stesso tempo, la nostra insicurezza interiore è correlata a questioni che nessun tipo di psicoterapia può risolvere: mai come ora ci sono state tante richieste di sospensione del mutuo, sgravi fiscali, prestiti, scoperti di conto corrente, Universal Credit, Food Banks, e, non da ultimo, la reale preoccupazione per la sicurezza nostra e di coloro che amiamo, per le vite che abbiamo perso. Può essere difficile non farsi prendere da quella che può sembrare un'ondata di rendimenti decrescenti, soprattutto perché in una situazione personale non c'è separazione tra l'individuo e la collettività.
Il contratto sociale
In questa pandemia, in che modo il nostro funzionamento mentale disturba e ridefinisce il nostro rapporto con lo Stato? Nel sacrificarci a rimanere a casa per il bene comune, a qualunque costo, molti di noi nel 2020 sperimentano per la prima volta una rinuncia quasi completa al libero arbitrio. Anche se pochi possono rifiutarsi categoricamente di farlo, in Occidente questo rappresenta una drammatica ridefinizione del contratto sociale, che crea nelle case, ad ogni latitudine, una tensione che non può durare a lungo. L'istinto spietato dello Stato per la propria sopravvivenza e la paura latente della folla che insorge gli impediranno di resistere alla tentazione di minare i principi democratici, al di là dell'emergenza? Viktor Orbán, facendo leva sulla politica della paura, ha già escluso la prospettiva di un possibile ritorno alla normalità democratica in un'Ungheria post-pandemia. Non potrebbe forse succedere anche alla nostra leadership in UK, nervosa, impreparata e prigioniera delle sue stesse paure, di cedere alla tentazione di riposizionarsi come regime di sorveglianza autoritaria digitale? Inoltre, nella nostra paranoia non elaborata, non siamo forse soggetti a barattare la nostra libertà con lo Stato, in cambio del sogno di essere protetti dai genitori? In questo scenario magico, ci troveremmo a dover ricordare e dimenticare, come il cavallo Gondrano nella Fattoria degli animali, che una volta abbiamo ceduto il nostro libero arbitrio e la nostra interiorità a un regime esaltato, con il pretesto che ci tenesse al sicuro.
Conclusione
È difficile concettualizzare ciò che sta accadendo ora, figuriamoci in futuro. Proprio ora che iniziavamo a convivere con questa nuova normalità, arriva la notizia che nella primavera del 2021 dovrebbe essere pronto il vaccino, che promette all'umanità una tregua e un ritorno alla normalità. Mi unisco a questo sonoro sospiro di sollievo che si riverbera in tutto il mondo, anche se purtroppo, non siamo ancora fuori dai guai. La pandemia ha messo a nudo la nostra politica divisiva e distruttiva, ciò che abbiamo fatto a noi stessi, agli altri e al pianeta. La nostra vulnerabilità si è chiaramente palesata su scala planetaria, sotto forma di malattie, incendi incontrollabili, straripamenti, terremoti, inondazioni e disastri economici. Se vogliamo sopravvivere, come individui e come specie, è più importante che mai trovare uno spazio interiore di contenimento emotivo, dove possiamo gestire le nostre emozioni. Il lavoro interiore ci aiuta a creare uno spazio intimo e sicuro, in cui possiamo riconciliarci con noi stessi, sviluppando dei meccanismi interni per mantenere la calma e andare avanti. In un mondo interiore ed esteriore così disorientante, come possiamo tollerare, accettare e mantenere una certa stabilità nell'incertezza?
Giovanni del Vecchio e' un Psicoterapeuta Psicoanalitico con sede a Londra e lavora Online: https://www.londonpsychotherapy.org/
Riferimenti bibliografici
Bion, W.R., 1962. Apprendere dall'esperienza. Terza edizione, Karnac.
Bollas, C., 1987. L'ombra dell'oggetto. Free Association Books.
Conrad, J., 1899. Cuore di tenebra.
Freud, S., 1905. Tre saggi sulla teoria sessuale.
Freud, S., 1913. Totem e tabù.
Gaburri e Ambrosiano, 2003. Ululare con i lupi: conformismo e rêverie. Torino: Bollati Bollinghieri, 2020.
Hegel, G.W.F., 1821. Lineamenti di filosofia del diritto, Britannica Great Books 1952.
Klein, M., 1947. Invidia e gratitudine.
Orwell, G., 1945. La fattoria degli animali.
Perini, M., 2020. Panic and Pandemics in Fear of Contagion to Contagion of Fear. In Associazione Psicoanalitica Internazionale 30 marzo 2020
Raab, D., 09.04.20, Riunione del governo, telegiornale della BBC1.